Pinpoint, Barenbrug's Forage Delivery System, is the cost-effective solution for seasonal feed supply challenges.
The Pinpoint family of products work together as a system. This system helps increase profitability by lowering feed cost and reducing stress on the operation. Pinpoint products help producers achieve the goal of grazing for 300+ days out of the year.

No matter which cool season or warm season perennial grass base is used, forage does not grow uniformly throughout the year. Livestock producers have to manage feed demand and feed supply, no matter what class of livestock or level of grazing management. The best grazers pay very close attention to both, minimizing periods of feed deficit or surplus.
Production records regularly indicate that winter feed costs are the single largest expense, and keeping winter feeding costs low is key to a profitable operation.
The Pinpoint family of products can provide a solution for timely forage needs. Even with ideal pasture and livestock management, periods of feed deficit still exist. Base forages have distinct growth curves that cannot meet the feed demand of grazing animals during every season of the year. Managers can plan for seasonal forage deficits. Pinpoint products can help fill these deficits.
Lower Your Feed Costs:
Feed grazed directly by animals will typically always be less expensive than conserved forage (hay, silage, baleage that is harvested and fed later). In addition, grazing animals recycle nutrients onto the pasture instead of concentrating them in areas where conserved forages are fed. Pinpoint products, along with other management changes, will allow growers to reduce their hay-feeding season regardless of where they're located.
Pinpoint products, as part of an improved management plan, can help you optimize the utilization of grazed forages and reduce dependency on supplemental feed, fuel, and other inputs.
Clovers should be part of every improved pasture management plan. The biological nitrogen fixation they support reduces fertilizer cost, increases the crude protein content and improves feed quality. There are a number of species available to fit specific needs.
Forage Delivery System:
Over a wide region of the US, cows average only seven months of grazing a year. Put another way, the average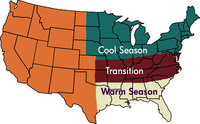 cattleman, from Mississippi to Wisconsin, utilizes supplemental feeds five months out of the year despite the differences in climate and grass bases. Pinpoint products will allow producers to reduce their dependency on store feed by increasing their grazing season.
Learn more about each region:
For more articles on 300+ days of grazing click here
appendices