A study1 conducted at the University of Wisconsin replaced equal portions of corn silage and alfalfa silage with NutriFiber silage.
Control

Treatment

% of Ration DM

NDF

24.8

26.9

NFC

48.5

46.5

Corn silage

24.65

16.58

Alfalfa silage

25.49

16.03

NutriFiber silage

0

17.53

High moisture shell corn

29.5

29.5

Concentrate mix

20.36

20.36
The resulting treatment ration contained 2% more NDF and 2% less NFC (of the ration dry matter). Small changes can produce big results! During the first period of the test, cows on the treatment diet produced milk with 0.5% higher fat test (3.5 more pounds of 4% Fat Corrected Milk per day), a statistically significant effect. After 2 months, the treatment and control groups were switched. The effect of switching diet was pronounced. Removing NutriFiber silage from their ration reduced fat test by 0.35%. Adding NutriFiber silage increased fat test by 0.35%. A clear demonstration of the value of NutriFiber!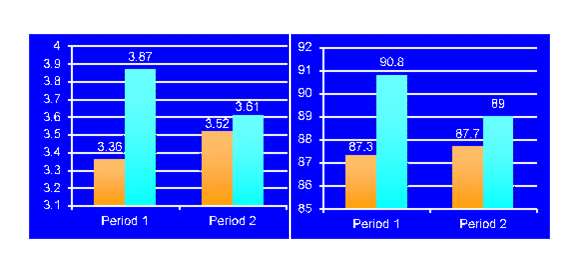 Fat test, % 4% FCM, lb
Woolever, J. T., and D. K. Combs. "Partial replacement of corn silage and alfalfa silage with Italian ryegrass silage in diets of high producing dairy cows." JOURNAL OF DAIRY SCIENCE. Vol. 93. 360 PARK AVE SOUTH, NEW YORK, NY 10010-1710 USA: ELSEVIER SCIENCE INC, 2010.