RTF® Rhizomatous Tall Fescue
Rhizomes to the Rescue
A rhizome (from Greek, meaning root-stalk) is a horizontal plant stem, most often found underground. Rhizomes are valued because they send out new roots and shoots, allowing new plants to propagate at a distance from the original plant. More than 10 years ago, Barenbrug turf scientists developed a superior tall fescue variety with rhizome-rich plants. We call it Rhizomatous Tall Fescue, or RTF.
The picture below features a RTF plant with rhizomes.
.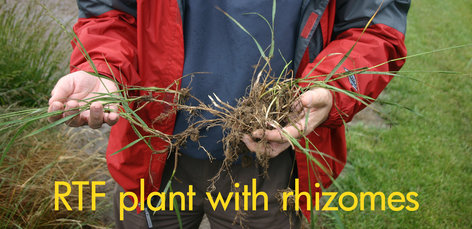 FEATURES & BENEFITS
Self-repairing Turf
Quickly fills in damaged or open spots with new shoots of grass

High level of traffic tolerance

Dense turf without open areas prevents weed growth
Strong, deep root system and drought tolerance
Rapid development of a deep root system

Excellent drought and heat tolerance with less irrigation

Adaptable to a wide range of soil conditions
Grows great in sun or shade
Excellent in the transition zone climate and other tall fescue turf regions

Will not brown out in the intense summer heat

One of the most shade tolerant cool season grasses
Excellent color and density
Has fine leaves which produce a very dense, uniform sod

Early spring green-up

Withstands stressful hot temperatures and keeps its rich green color
Excellent insect and disease resistance
Endophyte enhanced for improved insect, disease and drought tolerance

Environmentally friendly, reduces chemical and fertilizer inputs
appendices