BarOptima® +E34®
BarOptima® +E34® is the next generation forage tall fescue. It is a high energy and high yielding variety, which is bred in association with the revolutionary beneficial endophyte from our Get PLUS concept, E34. BarOptima +E34 is also featured in our Pinpoint™ family of products.
Purchase BarOptima +E34 Today!
Key Features:
Soft Leaf tall fescue for high palatability
Beneficial endophyte greatly increases persistence
Increases average daily gain
Development
Traditionally, forage grasses have been defined by two traits: yield and persistence. Barenbrug also places a strong emphasis on a third trait, forage quality. After all, forage quality has a direct effect on animal performance and ultimately on your profits.
Barenbrug has a long tradition of developing high quality forage products. After many years of research, Barenbrug has incorporated all three of these traits (yield, persistence and forage quality) in one product, BarOptima +E34. The technology that brings this all together is E34, a beneficial fungal endophyte that was discovered by the Barenbrug Worldwide Research Team. It was inoculated into Barenbrug elite soft-leaf tall fescue germplasm, which was used to breed the variety BarOptima +E34.
As a soft leaf tall fescue, BarOptima +E34 contains three highly desirable traits: a high-quality forage, yield, and persistence, all with unmatched palatability. The picture below demonstrates the difference between a common tall fescue and soft leaf tall fescue like BarOptima +E34. A difference that results in a considerable preference.
BarOptima +E34 represents Barenbrug's commitment to the livestock industry and a program of Total Forage Quality (TFQ).
Technical Information
Advantages Over Kentucky 31
BarOptima +E34 has multiple advantages over Kentucky 31 and other tall fescues. These advantages are best characterized by the words Safe, Sustainable and Profitable. To assure these advantages are delivered to our producers, maintaining seed quality is the highest priority for Barenbrug.
Safe
Animals grazing on BarOptima +E34 are significantly healthier than cattle grazing on toxic Kentucky 31. These healthy cattle have ­normal body temperatures and will spend more time in the field grazing as compared to cattle grazing on infected Kentucky 31 pastures resulting in an elevated body temperature. These cattle are spending valuable time standing idle in shade or cooling in water. More grazing time corresponds to ­better weight gains.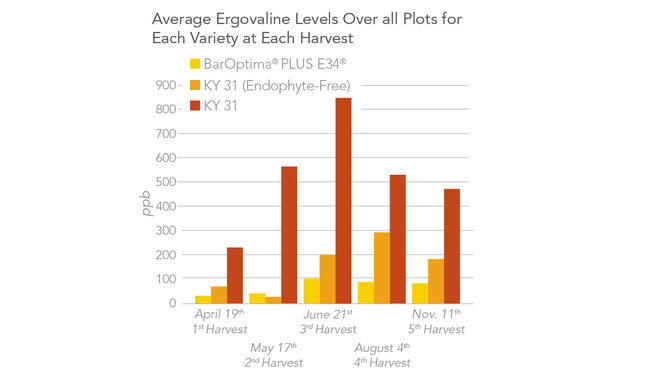 Sustainable
There are many endophyte-free tall fescues on the market, but under extreme growing conditions they do not persist under ­grazing. BarOptima +E34 will persist and provide premium feed in stressful environments.
Kentucky 31 may be persistent in extreme conditions, but its harmful ­alkaloids can cause low reproductive rates and inhibit milk production in beef grazing cows. BarOptima +E34 will persist in extreme ­conditions, improve reproductive rates, increase­­ the weaning weights of nursing calves, and reduce supplemental feed costs.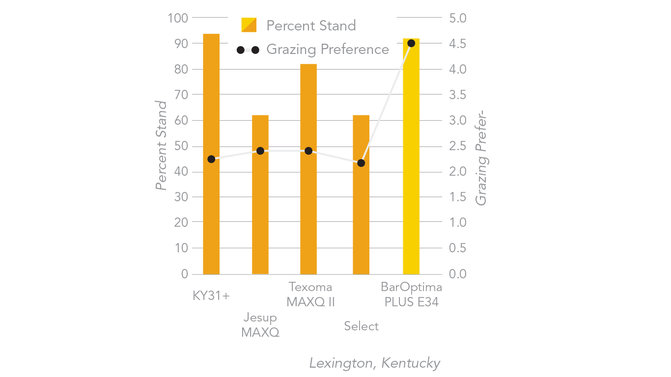 Profitable
Cattle feeding on BarOptima +E34 pastures are healthier due to its beneficial endophyte, thus reducing health-related costs. They graze longer and have higher intakes than cattle on Kentucky 31 pastures. The soft leaves of ­BarOptima +E34 improve the palatability and grazing preference ­of the pasture. Higher energy due to better fiber digestibility of forage makes BarOptima +E34 the ­ultimate choice for ­pastures on progressive cattle ranches.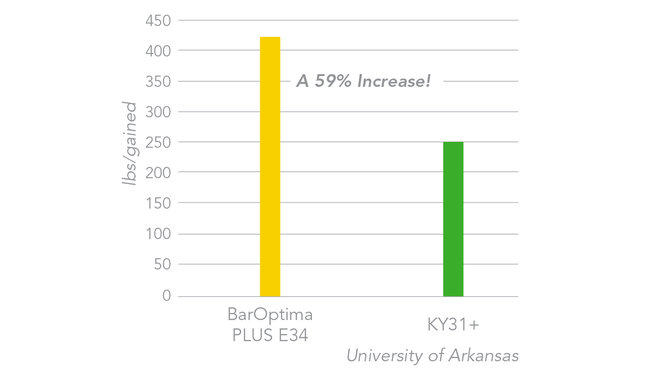 Product Spotlight: BarOptima +E34 and Freedom! Red Clover