26 years of Dedicated Farming
Representing three generations of growers the Carroll family Dwayne, Geri, Larry, Vickee and Tyler,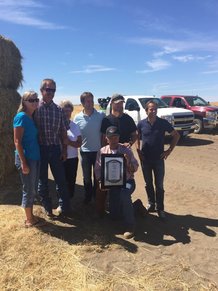 work as a family team to farm over 1600 acres. With 26 years of experience, the Carroll family is no stranger to grass seed farming. The first to grow grass in the Columbia Basin, the Carroll's are loyal and proud Barenbrug USA farmers. A few of the varieties they have grown include Barduke, Barrari, Barserati and many other Kentucky bluegrasses.

Celebrating This Special Partnership
Recently, Bastiaan and Frank Barenbrug presented the Carroll's with a plaque commemorating them for 26 straight years of dedicated growing of high quality bluegrass for Barenbrug USA.
Thank You Carroll's
Barenbrug USA's Don Obrist comments, "The Carrol's have been 100 percent loyal growers for Barenbrug USA since the inception of grass seed production in this area. They are some of the best farmers in the area, you can expect nothing but top quality products from them, and from my standpoint, it is an absolute pleasure and privilege to be able to work with them." Our aim is to create long lasting partnerships with our growers as they continue to pass on their legacy to future generations of farmers.