Barenbrug USA Appoints Micah Gould as Turf Product Manager
FOR IMMEDIATE RELEASE


Contact: Samantha Miller February 13th, 2018
Marketing Manager
Barenbrug USA
541-704-1214
smiller@barusa.com
Barenbrug USA Appoints Micah Gould as Turf Product Manager
(Tangent, OR) Barenbrug USA has appointed Micah Gould as the Product Manager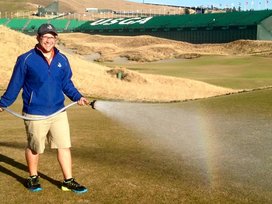 for the professional turf sector. As Product Manager, Gould will provide technical and sales support for Barenbrug USA's network of professional turf distributors. Additionally, he will be heavily involved in research and development to continue Barenbrug's goal of bringing new and innovative products to the U.S. turf market. Sales Manager, Jay Ingham comments, "We are very excited to welcome Micah to Barenbrug. He brings a vast knowledge of turfgrass along with an understanding of the industry."
Gould earned his B.S. in Horticulture, Turf Management at Oregon State University under Dr. Alec Kowalewski. While continuing education at OSU, he received his M.S in Horticulture by conducting a performance evaluation experiment on low maintenance and drought tolerant ground covers and turfgrasses, among other work on turfgrass trials as a graduate research assistant. Gould is switching career tracks, coming from the golf course management industry. One of the most memorable moments from his time in the industry would have to be volunteering for the U.S. Open at Chambers Bay alongside many Pacific Northwest golf course superintendents and friends alike.
Gould and his wife, Rachael, along with their cat Ivy and dog Chaz, enjoy camping trips to the coast and central Oregon with family on time off. When in season, Gould can be seen cheering on his favorite team the Green Bay Packers or attending Portland Trailblazer games.
Gould can be reached at mgould@barusa.com
About Barenbrug USA
The Royal Barenbrug Group is the world's leading developer of proprietary turf and forage grass varieties and legume species. The company has been in turfgrass plant breeding, seed production and marketing since 1904. Barenbrug USA is the largest subsidiary of the Barenbrug group, located in Tangent, Oregon.
###