Barenbrug USA Appoints Ryan Zook as International Sales Manager
(Tangent, OR) Barenbrug USA has appointed Ryan Zook as the new International Sales Manager.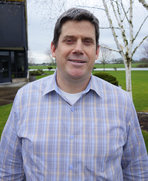 Starting immediately, Zook will lead Barenbrug USA to further expand its market share globally.
Zook completed his undergraduate at Marylhurst University with a B.A. in Communications. Prior to joining Barenbrug, Zook was with IOKA marketing in Silverton, OR where he was responsible for marketing and selling their products to local, national and international customers. He also played an instrumental role in growing the United States business with IOKA.
Dedicated to the grass seed industry for the last 7 years, Zook has had an active part in industry associations. His roles in the industry have included being Secretary/Treasurer of the Willamette Valley Specialty Seeds Association and Communications Committee Member on the Oregon Forage and Grassland Council.
Currently living in Happy Valley, Oregon, with his wife and three children; Zook is excited to begin his career for Barenbrug USA. Zook comments, "I am looking forward to the challenge of building relationships and meeting the individualistic needs of a culturally diverse client base."
Zook can be reached at rzook@barusa.com