Hugo Huerta has been with Barenbrug for the last 12 years. This past summer Hugo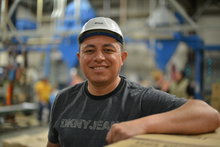 advanced from Warehouse Supervisor to Warehouse Manager.
As Warehouse Supervisor, Hugo was responsible for coordinating all activities associated with the blending of seed for production runs. Working with department managers, he would determine and maintain proper staffing for blending operations. They ensured they had the ability to deal with unexpected events in a professional and courteous manner while maintaining a high level of enthusiasm.
In his current position as Warehouse Manager, Hugo plans warehouse resources and activities in relation to company objectives and set targets. He coordinates the process of planning and exercising conscious control over the amount of time spent on specific activities, especially to increase effectiveness, efficiency and productivity. Hugo evaluates warehouse employee performance and maintains employee records, written warnings, reviews and other related documentation.
Hugo has also taken on the role of Safety Committee Chairman. Having an active and supportive role in the safety programs, Hugo brings on the challenge of continuing to build a solid and secure base for the company.
Originally from Mexico City, Hugo is a family man; 24 years ago he married his best friend, Guadalupe. They have three children; Angelica (23), Jose (18) and Andrea (12). When he is not spending time with his family, Hugo enjoys running, working out and traveling.