Barenbrug Holding BV has recently set up the Helping With Hands foundation. The aim of this initiative is to promote social, cultural and educational activities, in accordance with Barenbrug's views on sustainable business and corporate social responsibility. With Helping with Hands, Barenbrug gives all its employees an opportunity to contribute to the aforementioned aim in the form of volunteer work.
This December Barenbrug USA had their first inaugural Helping with Hands event. We prepared and served a full course meal of hearty chicken fajita burritos, salad and brownies with all the toppings for over 80 people at the local Albany Helping Hands Shelter. There were 30+ employees who joined together to shop, prepare, serve and clean over a two day period. It was a successful, fun and rewarding for all involved! BarUSA's goal is to serve a meal at the shelter 3-4 times per year.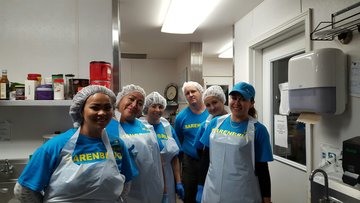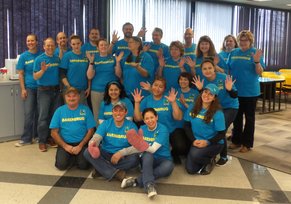 In March we had our second helping with hands event at the Noble Oaks Preserve. Near Willamina, Oregon's newest preserve covers 470 acres and connects two conservation easements. Together, those sites will soon establish a habitat "anchor" in Oregon's wine country. The team cleaned out migrating bird boxes for the Nature Conservancy. More than 10 employees worked to clean bird boxes all over the Preserve, in an effort to enable birds use more of them this year.