Production Update: Summer 2016
Crop 2016 appears to be all over the board and specific to individual fields. Annual ryegrass yields look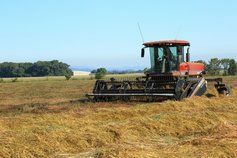 to be average, established tall fescue yields are down but new plantings of tall fescue are up, perennial ryegrass across the board is well below average and bluegrass under irrigation is preforming slightly above average.
The general feeling in the industry going into 2016 crop is that perennial ryegrass inventories are long, tall fescue is stable, annual ryegrass is unstable/unpredictable and Kentucky bluegrass is stable.
For the 2017 crop, higher prices will help maintain acres in grass seed production. However, over all in the industry there is very little room for growth in the Willamette Valley. Pressure from multiple seed companies and other high value crops make available acres very competitive. Barenbrug will be maintaining Willamette Valley acres but not increasing this year. The last 2 years have been expansion years for production and Barenbrug will now be focusing on maintaining high quality growers and longevity.
Looking forward it is believed that perennial ryegrass will continue to be overproduced due to other growing regions in Canada and the U.S. It is believed that the Oregon production of perennial ryegrass is in line but the rise in acres in the other growing areas will have a detrimental effect on the Oregon market. Tall fescue looking forward appears to be in balance. Annual ryegrass is a wild card and more growers are moving away from it when possible. Although bluegrass acres are very competitive the market seems to remain stable.