Barenbrug has established an annual award to the Professional Sales Person or Sales Support Member that best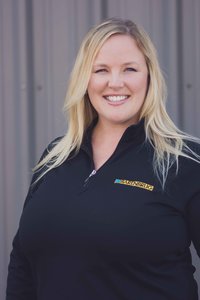 exhibited the spirit of Barenbrug as defined in our Mission Statement.
Barenbrug Mission Statement:
"We are the global leader in turf and forage grass seed and legumes. With our international focus, we offer local sustainable solutions with added value to end users around the world. We offer continuity to our customers, suppliers and shareholders while creating an inspiring and rewarding environment for our employees. As an innovative family-owned company we focus on Research & Development and the successful marketing of innovative products. We aim to further strengthen our position in existing markets and use this strong foundation to enter new markets. We are the Royal Barenbrug Group."
The 2013/2014 award was proudly given to Territory Manager, Cassie Kearns. Cassie has excelled in many or all of the key principals that our Professional Business is based upon including these clearly defined areas:
• Providing local sustainable solutions
• Creating an inspiring and rewarding work environment
• Providing and marketing innovation from research and development
• Strengthening our position in existing markets and entering into new markets
Cassie Kearns is the Southern Territory Sales Manager for the Professional Turf and Forage sectors and has been with Barenbrug for almost 3 years. Cassie currently lives in Texas and enjoys skeet shooting, fishing, four wheeling, making preserves, being with her family and helping educate inner city kids on agriculture.
Cassie is an essential team member who continues to excel. She not only exceeds in her territory but she often takes time to help her team members as well. Barenbrug USA is lucky to have such a talented and compassionate team member and we look forward to seeing what the future holds.