RTF at Omaha Country Club for U.S. Senior Open -By Pat Jones
Imagine, if you will, a young Eric McPherson picking up an old-fashioned rotary phone in the summer of 1998 and optimistically dialing the number for Paul R. Latshaw's office at Congressional CC to introduce himself. "I wanted to learn from the best, so I gave it a shot." That shot worked out well and a few months later he and his wife Stephanie were moving to Washington, DC. Eric went to work for the man and, like many, the experience shaped his career. "It was an amazing experience. He is one of the best agronomic minds I've been around. He would never accept good if we could do great." The 1995 Michigan State turf and horticulture grad began his career at Walnut Hills CC, near Lansing. It was there, helping to prep for the old Oldsmobile Classic event, that he discovered two things: "I absolutely fell in love with golf and really fell in love with tournament golf." After his time at Congressional, he earned his superintendent stripes at Point Judith CC, a Donald Ross gem in Rhode Island. "It was a wonderful club. No tee times, long waitlist. I loved it but in the back of my mind I still wanted to do championship golf."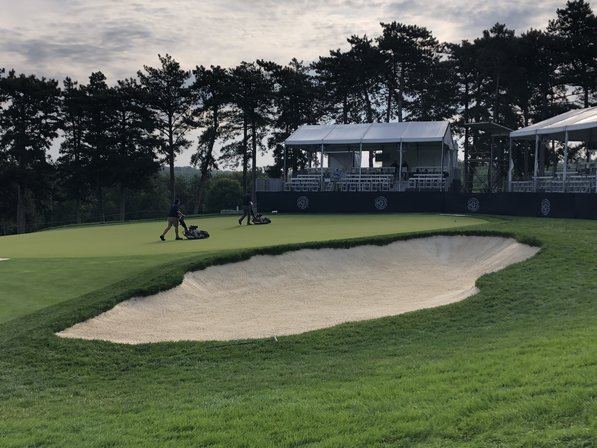 Morning mow at Hole 18
In 2011, Omaha CC, one of Perry Maxwell's midwestern classics, was looking for a new director of green and grounds... and the club would be hosting a U.S. Senior Open in 2013. He decided to go for it but asked that he and his wife Stephanie – who'd been his office manager and right-hand for years in Rhode Island be considered a package deal. "I told them if they had to choose, they should take her," he laughs. Happily, OCC took them both. Ten years later, it seems to be working out pretty well, with two memorable Senior Opens and extensive improvements and renovations under their belts, McPherson and his team have met the dual goal of giving members outstanding conditions while preparing for top-tier championships. I talked with him about what he's learned in his decade in Omaha, the crazy weather at the 2021 Senior Open, and the extensive upgrades they've made to the course...including the "indispensable" RTF turf-type tall fescue.
So tell us the story of the 2021 Senior Open Championship.
If 2013 was focused on how Omaha CC performed as a host site, 2021 was all about the golf course. We had all these wrinkles to deal with due to the pandemic. Getting volunteers was last minute, the crowd size was limited... but when the time came our presentation was really, really good. One local sportswriter called the course "a Rembrandt with flagsticks." Then Friday night, nature threw us a curveball (a wicked storm featuring 90-mph winds). I'm lying in bed listening and thinking, "Oh this can't be good." Then I heard the maple tree in front of our house rip in half.
Yikes!
I made it to the course by about 1 a.m. There was no power, no access to the club parking lot, TV towers upended, damaged tents, and limbs and debris everywhere. And it was wet.
How did you process all that in the moment?
It sounds crazy but I remembered something Lou Holtz said years ago at the GCSAA show about the WIN acronym: "What's Important Now?" It was important to finish this championship so how can we do that and how do we make it safe? This wasn't the first big storm to hit the club, so my staff started showing up early to make a new plan and fix the damage. We focused on safety and clean-up inside the ropes and then tree work. One team worked to clear the parking lot to get the club accessible, then they cleaned up the range and joined in mowing. Other teams started mowing in front of play on both 1 and 10. We had golf shop staff, members and club leaders and our team from the USGA all helping. It was a beautiful thing to see.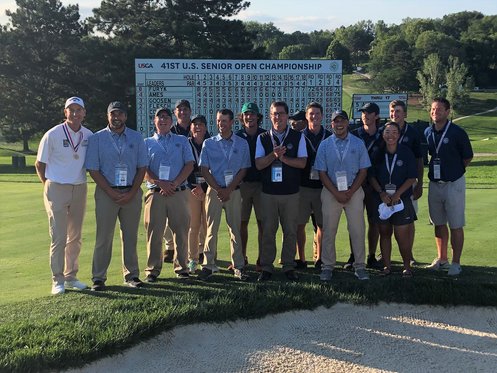 Team at OCC with Jim Furyk

And against all odds, there were balls in the air at 10 a.m.
NBC did a nice job with a little clip of the team getting the course open and that felt good. We still had to deal with persistent rain, but we finished the event on Sunday. Our volunteers all hung in there like champs. There was no pep talk necessary. It was awesome.
The championships are part of the reason remodeling and constant improvement have been themes during your tenure there. Tell us about that.
This club doesn't want to sit still. Members are adamant about staying current but also want that timeless look. We recently began working with (architect) Andrew Green. I am excited to get his input. He's been doing some great work lately, particularly with older courses like ours. The next challenge will be adding more options to play the course at different lengths.
Where did RTF turf-type tall fescue come into the mix for you?
When I got here in 2011, the rough was not consistent. We talked to the members and asked fundamentally, what do you want roughs to be? The membership wanted rough that was consistent day-to-day and throughout the year. And they said if I'm in the rough on #2, I think it should be similar to the rough on #12. So, consistency is what we set out to accomplish.
We used a Tenacity program to remove weeds and weedy type turfs like weaker blues and ryes. All the bentgrass and poa annua got smoked too. It's an intense process and it turns weeds white. As much as we told members it was going to be a shock, it was still a shock. The next step was to immediately introduce RTF turf-type tall fescue into all the roughs. We aerated and interseeded in all the thin areas. By mid-April we had rough that was 70-80% tall fescue. It looks phenomenal and plays great. This turf doesn't stress that much during summer, it takes the traffic extremely well and it doesn't des- iccate much during our winters. We were able to eliminate some big problems by introducing RTF.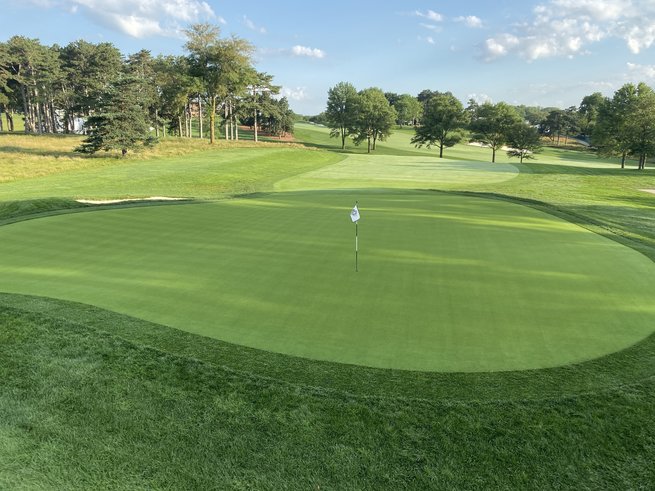 But you kept finding ways to use it, particularly in sod, correct?
As we completed more projects green surrounds, bunker surrounds, etc. – we kept using RTF sod. We noticed that when we go through a drought in summer, it doesn't lose its color and it stands up to traffic so well.
Divots heal quickly. It's self-repairing. There's no divot filling necessary. As an intermediate rough where there are a lot of shots played along the fairways, I think it's great because it fills in nicely.
-Eric McPherson
How does it recover from damage?
Divots heal quickly. It's self-repairing. There's no divot filling necessary. As an intermediate rough where there are a lot of shots played along the fairways, I think it's great because it fills in nicely.
You joined the "no collars" club a while back. Tell us how that's going?
That is part of our return to timeless golf design. Collars weren't really a thing in golf until the '50s. And they really can be a problem. They get beat up and can get overregulated. I didn't know what to think about it when we made the switch but, today, I wouldn't do it any other way. Instead of a collar we have intermediate RTF rough mowed at about an inch. It is a fantastic turf. It takes all the wear, it never goes off color and handles all the stresses. It reminds me of a thick pair of wool socks that just never wear out. The great thing is members can chip, putt, pitch off of it...they have tons of options to play. One other thing that's unique about having RTF right next to your bentgrass greens is you can put all the wear you want to put on it and it's no problem. We use turning boards less often. Also, RTF just eats growth regulators. There's no effect on density or discoloration or shortening of the plant. RTF is practically unimpacted by PGRs, which is key.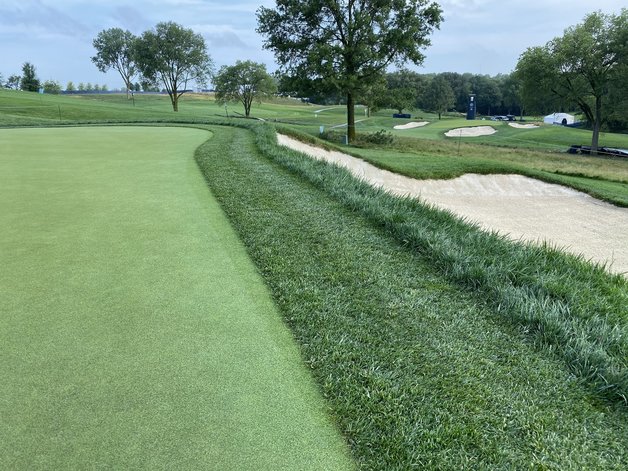 Hole 14
How about taking care of it?
We don't have to worry about disease and we no longer have billbug issues. It needs to be fed at that intermediate height. You need to feed it throughout the season in ways that do not encourage a lot of growth. In short, not a ton of nitrogen is needed.
Final thought: Why has RTF been important to your program?
Overall, RTF handles wear, disease, insects and stress flawlessly and has fantastic color all season long. It makes our life easier especially in this climate. It really performs well...the way we need it to perform at OCC.
Learn more about RTF Rhizomatous Tall Fescue.