2015 Warren Thompson Alfalfa Industry Service Award
Barenbrug USA Forage Product Manager, Dr. Peter Ballerstedt was awarded the 2015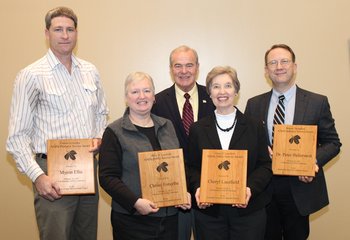 Warren Thompson Alfalfa Industry Service Award by the Kentucky Forage and Grassland Council for his dedication and commitment to the Forage-livestock industries.
The Kentucky Alfalfa awards program was initiated in 2000 at the 20th Annual Kentucky Alfalfa Conference. The awards program, which is funded annually from revenues generated each year by the event's silent auction, also includes the Charles Schnitzler Alfalfa Producer Service Award (awarded to Myron Ellis) and the Garry D. Lacefield Alfalfa Public Service Award (awarded jointly to Christi Forsythe and Cheryl Lacefield).
The Industry award is given in honor of Dr. Warren Thompson, called "Mr. Alfalfa" for his dedication to forage livestock agriculture in general, and the alfalfa industry in particular. Dr. Ballerstedt was presented this award to acknowledge his service to forage-livestock agriculture by promoting evidence-based information regarding the ecological role of ruminant agriculture and the value of animal products, particularly from ruminants, in the human diet.
To learn more about the Kentucky Alfalfa Conference please visit http://www.uky.edu/Ag/Forage/