Cover Crops are an important and useful tool to combat issues such as soil erosion, nutrient runoff and moisture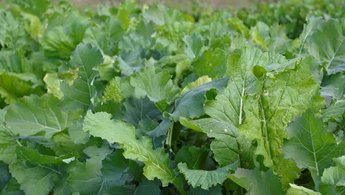 conservation. Multiple species are used for cover crop including brassicas, legumes and grasses. Recently there has been an increasing movement toward grazing cover crops as part of the rotation.

In addition to soil conservation and nutrient management, the nutritional values of most cover crops will meet the needs of grazing livestock. The ability to utilize annuals with grazing livestock allows longer rests periods for pastures, and also the ability to grow more forage and graze longer, reducing the amount of feed needed.
Utilizing livestock on a cropland field can also be advantageous for increasing biological activity through the recycling of nutrients through the animal as the majority of the nutrients that run through a ruminant animal are placed right back onto the ground from where they came.

Barenbrug is proud to offer COVERGRAZE specific products for cover cropping. Not only are these products perfect for non-grazing cover crop systems, they offer superior forage production, digestibility and quality for the grazing animal. If COVERGRAZE is in your cover crop plans, chose these products for performance that matches your application.

All products are registered varieties, suitable for cost share programs; contact your local agency for more details.