Dairymen, Dairy Nutritionists and Ohio and Pennsylvania PCAs:
Barenbrug USA would like to invite you to attend a forage grass seminar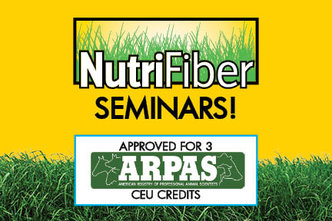 introducing our NutriFiber technology. These one day long seminars will take place on November 10, 11 and 12 in Ohio and Pennsylvania.
Speakers will include:
Dr. David Combs PhD Univ. of Wisc. Madison Dr.
Peter Ballerstedt PhD Forage Agronomist Barenbrug USA
Complimentary lunch will be provided and the agenda will be as follows:
10:00 Registration
10:30 – 12:00 The morning session (consists of three consecutive presentations):
Welcome and "Why We Don't Use Grass But Should," Joe Schmidlen, Barenbrug USA
"Better Understanding Forage Fiber and Digestibility," Dr. David Combs, University of Wisconsin
The basic concepts of evaluating forage quality and the development of the TTNDFD test.
"Grandfather's Grasses," Dr. Peter Ballerstedt, Barenbrug USA
Variations in forage quality between species and varieties
12:00 Lunch
12:30 – 2:30 The afternoon session (consists of three consecutive presentations):
"Using TTNDFD and Research Update," Dr. David Combs, University of Wisconsin
Training in using TTNDFD to fine-tune dairy cattle diets, select forages for dairy cattle, and price forages
"Modern Grasses for Modern Cows," Dr. Peter Ballerstedt, Barenbrug USA "
How and why to incorporating NutriFiber forages into modern dairy farms
Wrap-Up, Joe Schmidlen, Barenbrug USA
2:30 End of formal program
To Register please email Joe Schmidlen at Jschmidlen@barusa.com
Invitations and Course Syllabus: