SOS - A Step Forward in Overseeding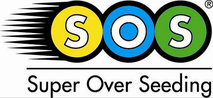 SOS Turf-Annual ryegrasses from Barenbrug offer unique solutions to fall overseeding challenges. With three generations of turf-annuals available, there is surely a product that can be tailored to your project's budget, on-site requirements and turf quality needs.
High Quality Turf with Customized Transition
Traditionally, overseeding has been done using either perennial ryegrass or common annual ryegrass. Both options have benefits as well as significant challenges to the end-user.
Perennial ryegrass provides strong turf quality late into the season, but turf density and persistence during spring transition competes with spring growth and the recovery of bermudagrass. From there, the most common practice is to use often expensive herbicide applications to speed transition. Alternative courses of action involve increasing cultural practices to diminish the perennial's persistence as temperatures rise and growing conditions become unfavorable for the plant.
Annual ryegrass provides economic, fast to establish and quick, natural transitioning turf stands but historically provided extremely poor turf quality. Early on these grasses were very light green in color, had a coarser leaf texture, overproduced clipping yields and showed little traffic tolerance. These were some of the major problems with initial turf annual varieties that hindered its acceptance into many markets within the turf industry.
Another solution to perfecting the overseeding process came in the creation of hybrid intermediate ryegrasses. Unfortunately, the quality of these intermediate ryegrasses didn't correlate to their costs, ranging closer to perennials. They also couldn't compete with the faster establishment and superior predictability in spring transition that improved turf-annuals bring to the table. Until these types of grasses become closer to annuals in their price, and truly resembling perennials in quality and performance (albeit retaining transition potential of annuals) they will remain an alternative option.
Superior Breeding
When discussing annual ryegrass for overseeding, most turf managers might think of Gulf annual. However, in cooperation with Texas A&M, Barenbrug USA changed the annual ryegrass discussion in 2006 with our introduction of Panterra turf-annual and the SOS Brand of turf-annual ryegrasses.
Ten years later, in 2016, Barenbrug's SOS Brand featured four turf-annual ryegrasses spanning three generations of turf-annual selection. Significant improvements in turf quality now afford the turf manager a wide-range of quality, performance and price.
Additional Features:
Economically priced compared to perennial and intermediate ryegrass
Excellent germination at low temperatures
Improved turf quality at low mowing heights
Slower growth rate with finer texture
Identify Your Overseeding Needs
Awareness of climate, site requirements, performance needs, budget and equipment availability are keys in identifying which SOS mixture best suits your turf area.
KEY FACTORS INCLUDE:
Traffic tolerance
Speed of establishment / Facility availability
Speed of transition / Spring persistence
Turf Quality (Important or Secondary)
Budget
Planting Recommendations:
SOS will germinate with soil temps in the mid-40's F. This allows for successful overseeding results for late season renovation after the playing season has ended. Late season renovation provides field protection for winter and early spring practice and play.
SOS should be seeded at rates comparable to traditional perennial ryegrass overseeding rates.
Golf 10-15 lbs per 1,000 sq. feet
Sports Turf 15 lbs per 1000 sq. feet
Landscape 10 lbs per 1000 sq. feet