Barenbrug USA is very excited to announce our new Warehouse Operations Manager, Jason Ragan.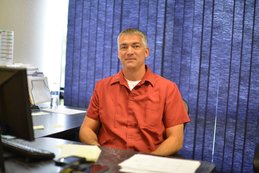 Jason currently lives in Dallas, Oregon with his wife of 18 years, Marsha and their three children, Colton (17), Ashley (13) and Kaitlyn (9). Jason enjoys fishing, spending time with family and traveling. Jason joined the Navy out of high school. After a year in school at Great Lakes, Illinois, he deployed to an Aegis Cruiser (CG 53) in Yokosuka, Japan. He was a GSE (gas turbine systems technician electrician) for the engineering propulsion and power generation for the ship.
In 1993, after completing his naval service, Jason was hired as a general labor at Cascade Steel Rolling Mills in McMinnville. He started as a utility worker and moved up to equipment operator and then crane operator. After four years he validated his electrical apprentice hours from his military service and took the electrical journeyman's exam with the State of Oregon. He passed the test and became an electrician at Cascade Steel where he worked in the melt shop where the melting and casting of steel is performed. In 2005, he received his electrical supervisors' license and moved into management.
While working at Cascade Steel, Jason attended college to earn his Industrial Engineering degree from Oregon State University and graduated in 2011. From 2011 to 2013 he worked in operations as the melting and casting supervisor. Jason worked on continuous improvement projects, 5S and lean manufacturing improvements.
Jason is very excited to join the Barenbrug family and welcomes the friendships, successes and challenges ahead.